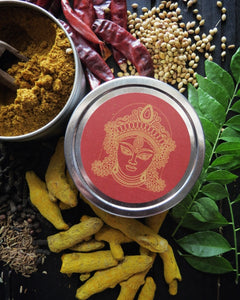 Rasam, a spicy and sour soup eaten with rice or on its own after a meal, is a staple in Thamizh cuisine. Rasam is great for digestion, warming up the body on those rainy, cool days, and boosting immunity thanks to its unique blend of herbs and spices. Our authentic rasam blend is freshly ground using traditional organic, sun-dried spices to preserve the integrity and aroma of the spices used. Our rasam powder also includes thippili pepper or long pepper which helps relieve cough and helps fights infection.
To Use: Add a half to one teaspoon rasam powder per one cup of water in your rasam recipe.

Ingredients: Coriandrum Sativum (Coriander Seeds), Cuminum Cyminum (Cumin Seeds), Piper Longum (Long Pepper), Piper Nigrum (Black Peppercorns), Capsicum Annuum (Dried Red Chilli), Cicer Arietinum (Bengal Gram), Curcuma Longa (Turmeric), Trigonella Foenum Graecum (Fenugreek Seeds), Bergera Koenigii (Curry Leaves), Ferula Asafoetida (Hing)
No sugar added.
Each tin comes with a label with ingredients and directions for use on the back, and is fully reusable or recyclable.
90g