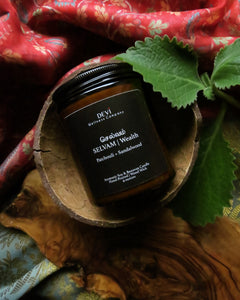 Smell is a powerful sense; one that can invoke memories of treasured moments and cherished places and at Devi Wellness Company we've taken this to heart. Our line of hand-poured, scented candles will take you back to the intoxicating aromas of the motherland. From jasmine flowers and roses to sandalwood, incense, spiced tea, mangoes, vetiver, and more, these rich and familiar smells are sure to invoke feelings of nostalgia. Because quality and integrity have always been at the forefront of our brand, each candle is thoughtfully made with sustainable pure soywax which offers a relatively clean burn and beeswax which acts like a natural air purifier. Our uncoated, wood wicks are made from cherry wood that is sourced and manufactured in the USA from a Forest Stewardship Council Certified Mill making it a sustainable and eco-friendly alternative. On par with our brand's commitment to sustainable packaging, all of our candles come in a fully recyclable 9 ounce glass jar that can be easily repurposed and an uncoated, recyclable kraft label. With custom blend scent profiles consisting of fine, phthalate-free fragrances and essential oils from around the world and names that pay homage to the Tamil language, our candles are sure to make a statement within your home.

Scent: Selvam│Wealth

Patchouli, a herb from the mint family, is derived from the Tamil root words "patchai" meaning green and "illai" meaning leaf. Its leaves were originally used in indigenous Tamil medicine or Siddha medicine and its oil as an insect repellent. Patchouli was first introduced to Europe in the 1840s when Napoleon Bonaparte brought back silks sprinkled with the herb to protect them from insects during travel. It was so common for goods from the far East to come with patchouli in them that the unique scent became linked to these exotic imports, becoming a symbol of luxury and wealth. Our candle SELVAM, translating to wealth in Tamil, combines the earthy aroma of patchouli with sandalwood and a hint of florals to create an elegant and luxurious blend.

Scent Profile: Patchouli + Sandalwood 

Scent Type: Woody/Earthy

Size: 9oz

Burn Time: 56+ hours

Did you know each candle purchased makes a difference? 15% of all candle sales will be donated to Palmera's Women Empowerment Collectives. Palmera is an organization dedicated to creating sustainable livelihoods for the most vulnerable communities in Sri-Lanka through a variety of projects and initiatives. In addition, one tree will be planted for each candle sold via One Tree Planted. One Tree Planted is a nonprofit charity organization dedicated to global reforestation, cleaner air and water, creating habitats for biodiversity, and creating jobs and social impact through the planting of trees.

NOTE: Candle Gift Box includes candle and glass apothecary bottle containing 20 matches and honeycomb striker on bottom neatly packaged and perfect for gifting. Candles come with a thank you card and description card.