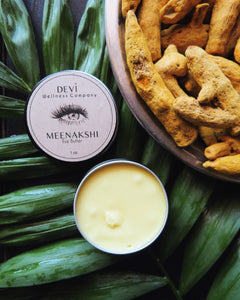 Meenakshi is our overnight, under eye butter named after none other than the goddess with the fish-shaped eyes.

The skin on your eyelids and under eye are extremely thin and fragile in comparison to the rest of skin on your face. It also contains much less oil glands and thus is prone to dryness especially due to aging. It's often an area that goes neglected until dryness or wrinkles are noticed. Made with organic ghee and herbs, our eye butter helps combat dryness, puffiness, and dullness.

Ghee, Nei, or clarified butter is an extremely useful ingredient in skincare due to its effectiveness on all skin types. It's full of good fats, highly nourishing, hydrating and considered one of the best, natural anti-aging solutions.

The antioxidant phytochemicals and vitamins found in pomegranate seed oil is known to reduce signs of premature aging, improve collagen formation, increase circulation and reduce imflammation.

Alma oil, sourced from the Indian Gooseberry or Tamil Neillikai, is rich in vitamins and minerals which contributes to reducing premature aging, improving collagen production and brightening the skin.

Ashwagandha, is hydrating, brightening and improves circulation.

Tulsi, the holy basil plant, is used for its skin brightening and anti-aging properties.

Turmeric helps combat inflammation and puffiness.

Saffron not only helps brighten skin but it  helps tone and firm the skin.

The sandalwood, rose, Frankinscense, and jasmine essential oils used are not only safe to use on delicate skin around the eyes but have anti-aging and anti-inflammatory properties.
To Use: Apply a scarce amount on clean under eye skin and/or eyelids as part of your night-time face routine for best results and overnight hydration.

Ingredients: Organic Ghee, Punica Granatum (Pomegranate) Seed Oil, Emblica Officinalis (Amla) Fruit Oil, Cera alba (beeswax pellets), Ocimum Sanctum (Tulsi) Leaf Oil, Withania somnifera (Ashwagandha) Oil, Curcuma Longa (Turmeric) Root Oil, Crocus sativus (Saffron) Flower Extract, Rosa Damascena Flower (Rose Otto) Oil, Boswellia Carterii (Frankinscense) Oil, Santalum Album (Sandalwood) Oil, Jasminum Officinale (Jasmine) Flower Extract.
Disclaimer: Under eye dark circles are usually genetic, however our eye butter can help moisturize, firm up, and brighten the eyelids and under eye area.