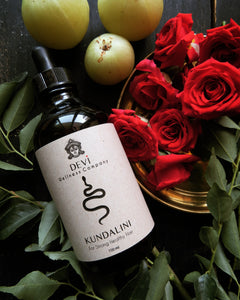 Kundalini is our herbal hair oil formulated to give you healthy hair, an itch-free scalp, and hair regrowth. Kundalini, which loosely translates to "she who is coiled" refers to the feminine, creative energy that is coiled at the base of the spine or root chakra since birth. It is often depicted using a serpent. Awakening this energy allows it to flow from the base of the spine or root chakra all the way through you head or crown chakra. Many believe hair is an extension of our body which can help raise Kundalini energy which in turn increases intuition and vitality. This is why a lot of cultures also choose to grow or not cut their hair at all rather than cutting it short.
Our herbal oil, Kundalini is made by infusing a variety of herbs in a combination of oils for several weeks. Every ingredient that makes the final product was specifically chosen for its hair and scalp restoration benefits. The oil is meant to be massaged and left on the scalp for a minimum of 20 minutes (the longer the better) before regular shampooing and washing of the hair. Massaging the scalp stimulates the scalp and thus hair follicles, increases circulation and allows the herb infused oils to deeply penetrate the scalp where it will offer the most benefit.
To Use: Simply massage oil into scalp and leave on a minimum of 60 minutes prior to washing your hair. Repeat weekly. 

Ingredients: Ricinus Communis (Castor) Seed Oil, Emblica Officinalis (Amla) Fruit Extract and Sesamum Indicum (Sesame) Seed Oil, Nigella Sativa (Black) Seed Oil, Linum Usitatissmum (Flax) Seed Oil, Melia Azadirachta (Neem) Seed Oil, Moringa Oleifera Seed (Moringa) Oil, Trigonella Foenum-Graecum (Fenugreek) Seed Oil, Equisetum Arvense (Horsetail) Extract, Urtica Dioica (Stinging Nettle) Extract, Hibiscus sabdariffa (Hibiscus Petals), Murraya Koenigii (Curry) Leaf Oil, Rosa damascena Flower (Rose) Oil, Melaleuca alternifolia (Tea Tree) Leaf Oil.

DO NOT INGEST. Always perform a patch test first.