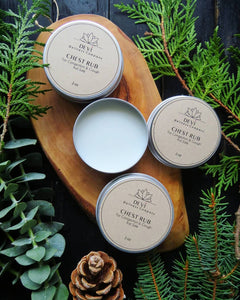 Not all essential oils are safe for children under 10 and that's why we have an effective chest rub specifically made just for kids. Made with sunflower, jojoba, and coconut oils for easy absorption, local beeswax, and an effective and safe combination of pure, organic essential oils that are kid-safe, this vapour rub is a must-have this winter season. It relieves congestion, cough when applied to the back and chest while providing a milder but similar comforting smell of its synthetic counterpart. Whereas the synthetic counterpart is known to worsen asthmatic symptoms or induce wheeze, this all natural rub does not cause an adverse reaction.
Here's what's in it and why it works:
Eucalyptus globulus and eucalyptus radiata can slow down breathing in children under 10. That is why we use a kid-safe strain of eucalyptus called Eucalyptus Dives which helps stop sniffles and clear up congestion.
Fir Needle is an analgesic (reduces pain) and helps improve respiratory function by relieving congestion.
Spearmint essential oil is similar to peppermint oil but safe for use in kids. It is an excellent expectorant. In addition its vapors can clear up congestion as well as the sinuses and relieve cough.
Rosalina essential oil is great at relieving upper respiratory tract congestion and infections, particularly in small children. It is a gentle expectorant and it vapors are relaxing and calming.
Cypress essential oil has been used for thousands of years to fight cold and respiratory illness. It has the ability to clear sinuses and open up the air ways.
German Chamomille is a naturally blue essential oil, responsible for the beautiful blue hue of our vapour rubs. More than that it encompasses anti-inflammatory, antifungal, and antiseptic properties. It also helps remove additional mucus from the body. 
All essentials have been used in appropriate concentrations to ensure the safety and well-being of our littlest customers.
To Use: Rub product onto chest, back and temples as needed with clean fingers. Consult a healthcare professional if symptoms worsen or persist longer than 5-7 days.

Ingredients: Helianthus annuus (Sunflower) Seed Oil, Cocos nucifera (Coconut) Oil, Cera Alba (Beeswax), Tocopherol (Vitamin E), Eucalyptus Dives Oil, Albies Sibirica Ledeb (Fir Needle) Oil, Mentha Viridis (Spearmint) Leaf Oil, Melaleuca Ericifolia (Rosalina) Oil, Cupressus Sempervirens (Cypress) Oil, Chamomilla Recutita (Matricaria) Flower Oil

Warning: KEEP OUT OF REACH OF CHILDREN. Not for use in nasal passages. Do not ingest.