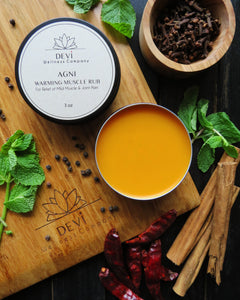 Our Warming Muscle Rub, "Agni" rightfully named after the Vedic God of Fire, is made of a combination of oils, beeswax, and warming essentials oils. This all natural, herbal rub provides relief of mild muscle aches and joint pain. Hemp seed oil , often referred to as "hemp oil," is harvested by cold-pressing hemp seeds. As with most of our products, we opt for the unrefined version and as a result it remains a clear green oil with a very mild nutty aroma. Hemp oil is rich in the fatty acid gamma-linolenic acid which acts as a powerful anti-inflammatory. It's also highly moisturizing and as a result creates the perfect base for the strong essential oils used in our rub. In addition to hemp seed oil, we use Ashwagandha oil and Castor oil for their anti-inflammatory properties. The Ashwagandha herb is known to relieve mild arthritic pain. The combination of essential oils used effectively stimulates circulation, providing a warming sensation on the skin while helping alleviate pain.
To Use: Massage product onto affected area once or twice a day with clean hands. Wash hands after use.
Ingredients: Cannabis sativa (Hemp) Seed Oil, Withania somnifera (Ashwagandha), Ricinus Communis (Castor) Seed Oil, Cera alba (beeswax pellets), Tocopherol (Vitamin E), Cinnamomum camphora (Camphor) Bark Oil, Melaleuca leucadendron Cajaput (Cajeput) Oil, Gaultheria procumbens (Wintergreen) Leaf Oil, Mentha piperita (Peppermint) Oil, Capsicum annum (Chilli) Oil, Piper nigrum (Black pepper) Seed Oil, Zingiber officinale (Ginger) Root Oil, Curcuma Longa (Turmeric) Root Oil, Eugenia caryophyllus (Clove Bud) Flower Oil.
Size: 2 oz 
Warning: KEEP OUT OF REACH OF CHILDREN. Product is intended for short-term use and not intended to cure any type of chronic pain-related disease. Not for use on children under 12. Use at your own discretion in small amounts if pregnant. Do not use if allergic to aspirin or using blood thinners. Do not use on freshly shaven or waxed areas. Always perform a patch test prior to use.