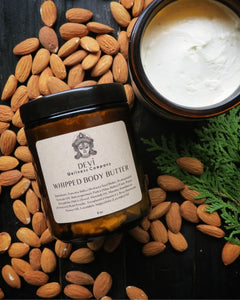 Our Whipped Body Butter is made with rich kokum seed butter which is regarded highly in the Eastern part of the world for its nourishing and healing properties. Kokum butter is made from the kernels of kokum fruit which is a fruit similar to the more popular mangosteen. It is more emollient than most butters, meaning it locks in moisture better. It possesses antibacterial, anti-inflammatory, and antioxidant properties which make it an excellent choice for use on dry, damaged skin. It's non-comodegenic (does not clog pores) and absorbs easily without leaving the skin feeling greasy. This body butter incorporate kokum butter as the main ingredient, in addition to avocado butter, sweet almond oil, and green tea extract to help hydrate and soften skin while improving elasticity and reducing the degeneration of skin cells.

This is a rich, thicker body butter which melts on contact with skin. It is perfect for combating the dryness that comes with winter. It's scented very lightly with skin soothing rose and lavendar essential oils.

Comes in a good quality reusable/recyclable amber glass jar with a fully recyclable label.
8 oz.