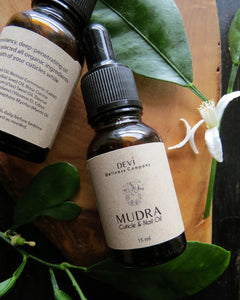 The cold, dry weather outside combined with the warm and often dry indoor heat, in addition to all the extra hand-washing and hand-sanitizing, can really dry out the delicate skin around your nail beds leading to rough cuticles and peeling skin around your nails. A good cuticle oil helps hydrate and lock in moisture while strengthening brittle nails, improving circulation around the nails, and stimulating nail growth. It can also protect and lengthen the longevity of your polish/manicure.
MUDRA, (Tamil word for finger/hand poses designed for specific health benefits) is a thin-consistency cuticle and nail-strengthening oil made with carefully selected all organic ingredients to help restore the health of your cuticles while strengthing your nails. The thin consistency is actually vital for optimal absorption and thus effectiveness. Rich oils like argan, castor, and jojoba help moisturize, smooth, and strengthen cuticles and brittle nails. Rosehip and flaxseed oils help restore and carrot oil helps rejuvenate and regenerate skin and nails. Organic vegetable glycerin derived from coconut helps lock in moisture so that the oils are not easily washed off and Vitamin E helps prevent cracking and yellowing of the nails. Lemon essential oil prevents cracking and provides shine, myrhh oil (a tree resin) strengthens and stimulates nail growth and Frankinscense oil is not only antimicrobial but beneficial for stronger and healthier nails. As with all of our products each ingredient is carefully selected to work effectively together to give you the best results.

Ingredients: Argania Spinosa (Argan) Oil, Ricinus Communis (Castor) Seed Oil, Simmondsia Chinensis (Jojoba) Seed Oil, Rosa Canina (Rosehip) Seed Oil, Linum Usitatissimum (Flax) Seed Oil, Daucus Carota Seed (Carrot) Oil, Glycerin, Tocopherol (Vitamin E), Citrus Medica limonum (Lemon) Peel Oil, Commiphora Myrrha (Myrrh) Oil, Boswellia Carterii (Frankinscense) Oil.

Directions: Massage oil into cuticles and nails daily before bedtime or after a manicure or pedicure. Can be applied as needed. 

Size: 15mL