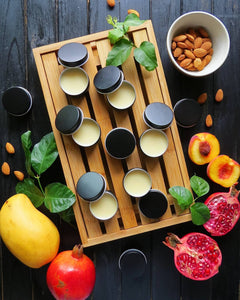 NEW AND IMPROVED FORMULATION
Our all organic super-hydrating lip balm is made with a total of 14 skin nourishing ingredients to treat and prevent dry, chapped, sun-damaged lips. There are no colours or scents (other than essential oils used for their healing properties) added to the formula to ensure that our lip balm is suitable for all, including those with sensitive and allergenic skin, as well as children.
Local (when available) beeswax is used for its anti-inflammatory, anti-bacterial, and UV protective properties. Additionally, beeswax works as a protective barrier on the skin's surface, by helping to lock in moisture for soft and hydrated skin.
A combination of shea, kokum, and mango butters are used for their moisturizing properties as well as for their ability to add creaminess to the balm.
A total of eight oils suitable for dry skin is used including sweet almond oil for its ability to treat dry and sun-damaged skin, pomegranate oil for it's high antioxidant levels, apricot kernel oil for it's moisturizing capabilities, jojoba oil for its ability to form a protective barrier over dry, chapped lips, hemp seed and Ashwagandha oils for their healing properties, and castor oil for its ability to retain moisture as a humectant. Although, vitamin E is found naturally in many of the oils used, an additional quantity is added to reduce the appearance of darkened skin due to dryness/constant licking of the lips due to dryness.
Jasmine essential oil is used for it's hydrating, and anti-inflammatory properties and sandalwood essential oil for its antimicrobial properties and effectiveness in treating cold sores.
To Use: Apply as needed with clean fingertips.
Ingredients: Butyrospermum Parkii (Shea Butter) Fruit, Garcinia Indica (Kokum) Seed Butter, Mangifera Indica (Mango) Seed Butter, Cera alba (beeswax pellets), Prunus Armeniaca (Apricot) Kernel Oil, Simmondsia Chinensis (Jojoba) Seed Oil, Punica Granatum (Pomegranate) Seed Oil, Withania somnifera (Ashwagandha) Oil, Ricinus Communis (Castor) Seed Oil, Tocopherol (Vitamin E), Jasminum Officinale (Jasmine) Flower Extract, Rosa Damascena Flower (Rose Otto) Oil, Santalum Album (Sandalwood) Oil.