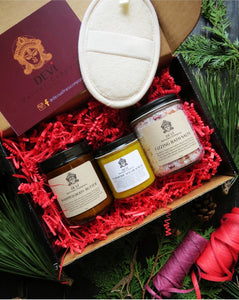 Our luxury bath set, comes complete with an 8 oz jar of bath salts, 5 oz jar of turmeric emulsified scrub, an 8 oz jar of green tea extract body butter and a bonus natural loofah while supplies last. It's the perfect gift for someone that needs a bit of rest and relaxation during the busy holiday season.
Fizzing Bath Salts
To Use: Sprinkle a few tablespoons into a tub filled with warm water for a detoxing bath experience.
Ingredients: Magnesium Sulfate (Epsom Salt), Maris Sal (Dead Sea Salt), Maris Sel (Himalayan Pink Sea Salt), Sodium Bicarbonate (Baking Soda), Citric Acid, Rosa Gallica (Rose Petals), Parfum (Essential Oil Blend)
Emulsified Turmeric Sugar Scrub
An emulsified sugar scrub, unlike a regular sugar scrub which is made up of sugar and oils,  combines with water to become a creamy exfoliating lotion leaving no oily residue or slippery bathtub behind. Our emulsified sugar scrubs combines kasthuri manjal or wild turmeric and lemon perfect for hyperpigemented areas on the body. 

To Use: Scoop a tiny bit of product using the wooden stick provided and rub in circular motions on wet, clean, skin. Rinse. 
Ingredients: Sucrose (Sugar), Prunus Amygdalus Dulcis (Sweet Almond) Oil, Butyrospermum Parkii (Shea Butter) Fruit, Simmondsia Chinensis (Jojoba) Seed Oil, Cera Alba (Beeswax), Cetearyl Alcohol and Ceteareth-20 (Emulsifier), Curcuma Longa (Turmeric) Root Powder, Lactobacillus Ferment & Lactobacillus & Cocos Nucifera (Coconut) Fruit Extract (Perservative), Citrus Medica Limonum (Lemon) Peel Oil, Vegetable Glycerin, Tocopherol (Vitamin E)
Note: Avoid using wet hands in the jar.
Whipped Body Butter 
Your skin will love our extra rich, lightly scented body butter with green tea extract this winter season. It's a great follow-up after exfoliation or as needed. 
To Use: Apply a small amount. Butter will melt on contact with skin. 
Ingredients: Garcinia Indica (Kokum) Seed Butter, Hydrogenated Avocado Oil, Butyrospermum Parkii (Shea Butter) Fruit, Prunus Amygdalus Dulcis (Sweet Almond) Oil, Maranta Arundinacea (Arrowroot) Root Powder, Tocopherol (Vitamin E), Rosa Damascena Flower Oil, Lavandula Angustifolia (Lavender) Oil
NOTE: Our products are packaged in quality glass jars with recyclable labels.

Available for pick up only.