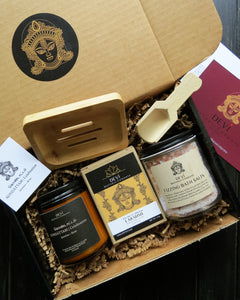 Our Candle Bath Set comes with our Kondattam candle, Lakshmi bar soap, bamboo soap holder, Fizzing Bath Salts, and a wooden scoop, all beautifully packaged in a black kraft box.
NOTE:
Our 9oz candles are made with custom scent blends and thus are very unique to our brand. Each candle consists of fine, phthalate-free fragrances and essential oils from around the world to give you beautiful scents and the cleanest burn possible. Our scent Kondattam, translating to celebration, is a custom blend of Madurai jasmine and garden rose; two flowers central to Tamil celebrations. 50+ hours burn time. 

Lakshmi, our skin-softening soap named after the goddess of wealth and beauty, is our most luxurious soap. This ultra moisturizing bar is formulated with skin-softening butter and oils, ground and dried rose petals, pink clay, and rosewood and rose otto essential oil.

Ingredients:
Distilled water, coconut oil, vegetable glycerin, sodium plamate (salt derived from palm oil), sodium cocoate (salt derived from coconut oil), decyl glucoside (natural sulfate free surfacant) sorbitol, shea butter, jojoba oil, vitamin E, Australian pink clay, ground rose petals, rose petals, rose otto essential oil.
Our balt salts are made with a combination of magnesium-rich Epsom salts, Dead sea salts, and Himalayan Pink salt, baking soda, citric acid for some fizz, and a very soothing blend of essential oils.